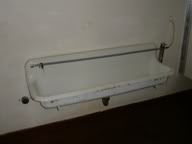 Not really. In actuality, I hate the trough. If there is another man urinating at the trough, you won't catch
me
there. I'll either be waiting in line for the stall, or back at my seat at the bar, crossing my legs like nobody's business, or at least somebody's business that I don't want to invest in...
Aaron and I went to the Latino bar, "The Twilight Lounge," for last call tonight- only because band practice went late and Twilight is the closest bar to get to when it's 1:46 in the morning.
The few minutes we spent there were pretty uneventful, but nonetheless, we both agreed that they were quite surreal, those few minutes. How do I explain- it's not really
that
weird to go into a bar where no one speaks English. It's not
that
weird to pay $2.50 for a bottle of Miller. It's not
that
weird to hear, "Joo een't gottoo goo hoom, bot joo got too git dee fook outta heear!" Well... I guess that's
kinda
weird. But more funny, really. Especially coming from a young woman that I seriously thought was a prostitute five minutes earlier, simply based on her apparel. Color me judgmental. I guess she was a friend/girlfriend of the bartender. Who'da guessed?
Anyway, there was a trough for a urinal in the men's bathroom. Luckily, no one else had to relieve themselves at the same time I did. It could've been weird. I envision some sort of international incident evolving from a simple misunderstanding- "Look, it's not a racist thing! It's got more to do with my insec- OW! You just punched my nose! OW! What the fu- Hey! Stop punching m-", and so on.